Band-baaja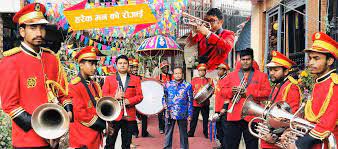 August 10, 2022 | matrimony-services
Meaning of marriage: band-baaja procession and business
Indian weddings have become more opulent due to the great combination of modern dazzle with tradition. The newly born bride and groom and enthusiastic family members of the new era are writing a new chapter of the unbreakable bond of marriage with pomp. Its annual business is Rs 1.25 lakh crore due to heavy purchases for marriage. reached.
Actually, marriage is just a hallmark of Indian weddings famous for their devotees all over the world. Marriage in India is a sacred union of two souls, an unbreakable bond of ties, part of the culture, a traditional celebration and the greatest opportunity to express the feelings of the parents of the bride and groom.
It includes great jewelry purchase, attractive gifts, luxurious theme wedding pavilions, delicious cuisine, memorable honeymoon packages.
Marriage is the most memorable moment of life, people want to keep sweet memories of it. Indian wedding ceremony is not only an important turning point in the life of the bride and groom, but it is also a special occasion to celebrate for the whole family, relatives as well as friend circle, in which they wholeheartedly participate.
Even in middle-class families, the time of arranging a party by taking halls on rent, arranging tents and finding confectionery has become a thing of the past. In the hotel or marriage garden, the complete package has started getting together.
In metros, wedding planners now arrange for the reception and care of the guests, entertainment in women's music, bride's make-up, catering, decoration etc. Working as a wedding planner in Mumbai and Goa for the last six years, 'People have become more busy, the race has increased'