Maa-Baglamukhi-Jaap,-Puja-&-Hawan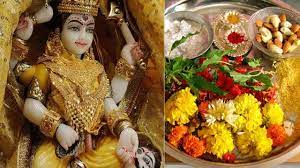 August 13, 2022 | pandit-purohit
Things to keep in mind in Maa Baglamukhi Sadhana
1- In Baglamukhi Sadhana, it is necessary to take special care of the following things. While worshiping Maa Baglamukhi, always wear yellow clothes and sit on a yellow seat.
2- All the things worshiped in the worship of Baglamukhi Mata should be of yellow color. Never worship Maa Baglamukhi under the open sky.
3- At the time of worshiping Maa Baglamukhi, follow the celibacy religion completely and at the time of sadhna one should not touch, discuss and have intercourse at all.
4- Never do the timid people do the sadhana of Baglamukhi. Baglamukhi Devi also tests her seekers. During the sadhana of Maa Baglamukhi Maa, there can be a sense of terrible sounds. One should not be afraid of this and worship should continue.
5- Sadhana of Baglamukhi Maa should always be started with the permission of the Guru and before starting the worship, one should definitely meditate and worship the Guru.
6- Bhairav of Baglamukhi is Mrityunjay. Therefore, a rosary of Mahamrityunjaya mantra must be chanted before their sadhna.
7- The sadhna of the mother should always be done facing north. The mantra should be chanted only with turmeric garland. After chanting, the garland should be worn around the neck.
8- The worship of Maa Baglamukhi should be done in the night between 9:00 to 12:00. The number of mantras to be chanted should be fixed in advance and the same number should be chanted regularly. The number of chanting of the mantra should be ensured by the seeker.
9- The sadhana of Maa Baglamukhi should always be done secretly. Do light a lamp while worshiping the mother. The person who completes this Baglamukhi Sadhana becomes invincible and no enemy can harm him.
Due to the strict rules of worship of Mother Baglamukhi, the common people are unable to worship her because it is very important to follow the rules in their worship. But in the form of these, Mata Pitambara can be worshiped easily, so you are requested if you are not able to worship Mata Baglamukhi, then you can also get the blessings of Maa Baglamukhi by worshiping Mata Pitambara.