Bridal Makeup Hairstyle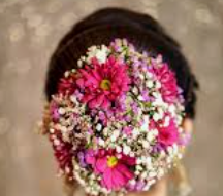 September 09, 2022 | matrimony-services
Bridal Makeup Hairstyle
New styles of bridal makeup, following which you will look special in every function.
You must have done shopping for clothes to look different for each and every function of the wedding, but what kind of make-up will go with it, as well as the variety will also be seen in the look, have you thought about it? No. So there is still time, instead of completely depending on the parlour, you should do some hard work yourself. Shimmering bold eye colours and a flawless and clean look are well-liked. So
The first and special function of marriage, so on this day there should be such makeup, in which you look not only beautiful but also gentle. Pink, peach or golden makeup will be perfect for light and soft makeup. The more natural the makeup, the better it will look. Natural cream lipstick, light pink shadow and long-lasting mineral base are perfect for the occasion. Keep the hairstyle simple. The option of an open hairstyle is right.
You can contact Vedic Astrologer Kapoor for
Matrimony Service in India

The function of Mehndi takes place a day before the wedding, so keep the makeup light and natural because on the wedding day, you have to carry heavy makeup for a long time. In such a situation, there should not be pimples or other problems on the face. Apply mineral face powder, light mascara, and lip gloss. A side braid will look good in the hairstyle.
Keep the hairstyle in such a way that you can also use hair accessories. Comb your hair with a loose bun or crimping. For a traditional look with light makeup, apply a waterproof base after a makeup primer. Blend well. Highlight eyes with mascara and volumizing mascara. Bright pink or orange lipstick can be applied to the lips. Give a light touch of peach or baby pink blusher.
It is the most special day for every bride. Glittery, deep and dark pink makeup is in trend. Makeup primer and a long-lasting waterproof base, heavy eye makeup with glitter, winged eyeliner, glossy lips and deep blusher will give you variety in the look. After curling the lids, apply 2-3 coats of waterproof mascara. Eye and lip makeup should be highlighted on this day.