Best Vedic Astrologer On What Is Rudraksha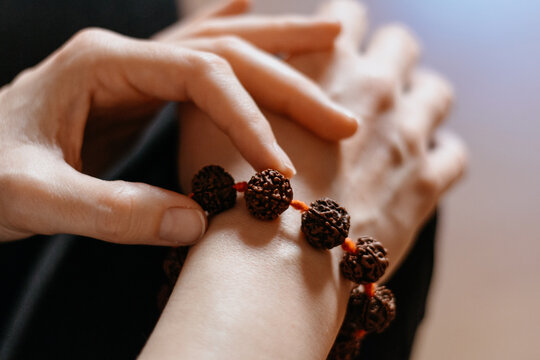 August 16, 2022 | astrology
Are you looking for the Best Vedic astrologer? Consult us for insightful astrological facts.
There is a mythological statement about Rudraksha,
Once Skandaji asked Shivaji – O! How was the creation of a rudraksha full of great qualities,
how many faces does rudraksha have, and what is their wearing method, as well as there is a desire for
knowledge about their mantras.
Lord Shankar said – O! Skanda was an invincible demon named Tripura in ancient times, after defeating him,
Brahma Vishnu and Indra came to me and prayed to kill Tripura,
then I wore such an Aghor weapon named Kalagni,
which no one could see. Just seeing that weapon, the eyes of the deities kept on glowing for a thousand years. The tears that fell from his eyes due to the distraction of bright light,
created a healthy Rudraksha tree in the human world.
Wearing its garland also benefits millions of times more than chanting and japya. Also, wearing a true Rudraksha around the hands, ears, head, and neck gives a very rare death sentence.
Hey! Mahabhaga, the wearer of Rudraksha becomes free from all sins.
Skanda asked – O! Describe the qualities of Lord Rudraksha, which are of types from one face to fourteen faces, respectively. Lord Shankar said- O! Skanda listen to the details of all these Rudrakshas.
One face rudraksha

[ Best vedic astrologer ]

One-faced Rudraksha should be worn on Monday morning by performing regular rituals and chanting

the mantra **Om aum aum aum** 108 times.

One Mukhi Rudraksha should never be worn with a hole in the middle, otherwise, its internal powers get destroyed, and that Rudraksha starts giving bad results instead of good ones.

It should be worn only after getting impregnated with gold metal, and alcohol should be kept in the place of

worship at the time of consumption of meat and Rati with men and women. And it should be worn only after being purified, but

whenever it is worn after taking off, then the above mantra should definitely be chanted.

On the day of Holi, Diwali, and Dussehra and eclipse, it should be cleaned by washing it with Ganges water or any

clean river water, if it is not available, then it should be washed with already collected rainwater,

then after chanting the mantra should be worn.

A Vaishyagami man or a Parapurushgami woman becomes a leper after wearing this Rudraksha. One Mukhi Rudraksha becomes the form of Shiva, by wearing it, sins like brahmhatya can also be removed, but

after wearing it one should not commit any kind of sin, otherwise, it gives opposite results immediately.
Rudraksha continued………. – 2
After wearing it, the blessings of Mother Parvati remain with her, the animal is always full of Lakshmi. By continuously chanting the above mantra daily, no obstacle can enter the body or the abode.

The Best vedic astrologer suggests other uses washing this Rudraksha in cow's milk and giving it to the sick
person and by chanting the above mantra at the door of the sick person, terrible diseases are also removed.
Seeing and touching this Rudraksha as soon as you wake up in the morning, the whole day passes happily,
there is no fear of wearing it while going to a terrible place.

Dakshina and results according to zodiac signs give wealth to Aries and Libra, respect to Taurus and Scorpio,
a place in society for Gemini and Sagittarius, immovable property to Cancer and Capricorn,
foreign travel, and comfort to Leo and Aquarius. he does.
Double face Rudraksha

[ Best vedic astrologer ]

Two-faced Rudraksha should also be worn on a Monday or a full moon day at sunrise after

washing it in cow's milk and pre-covered in a silver sheet, but on Shivaratri,

it must be anointed with basil leaves and milk. This mantra should be chanted 108 times at the time of doing it and

should be seen every morning in morning. The mantra is ** Om Hreem Kshon Vreem Om **. Another name of this Rudraksha is "Dev-Dev", it pacifies the mind after being filled with food grains, in

whose horoscope Rahu Ketu creates Kaal Sarp Dosh, or there is mutual conjunction of Moon-Rahu or Saturn Rahu.

Seeing the effect of the twelfth house, they create situations like going to jail, they should be worn. Those whose Moon is twelfth should not wear this Rudraksha in any way, otherwise,

the moving mind can throw the person out of the house.


Dakshina and results according to zodiac signs this Rudraksha bring happiness and building for Aries,

state honors and children's happiness for Taurus, work and debt enmity for Gemini, relief from disease,

business for Cancer people, increase in happiness of husband or wife,

Leo people Increase of wealth and courage for non-living reasons.



Best Vastu consultant in Gurgaon