Chahthi-Pujan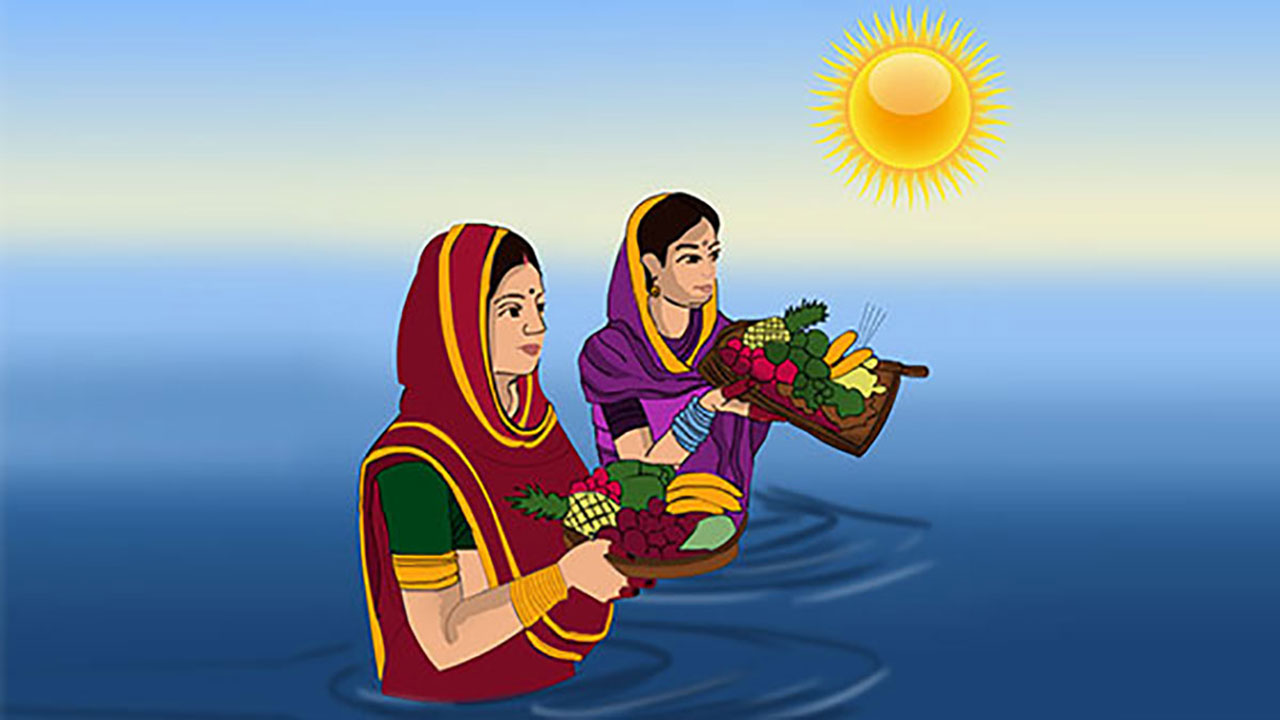 August 13, 2022 | pandit-purohit
Rules for performing Chhath Puja and complete worship method, material
The preparation of Chhath Puja, popularly known as Mahaparv, is our most beloved festival. This festival is such that no one wants to miss it even after wanting to. This festival is as if settled in the hearts of all Hindus. Everyone is so excited about this festival that no one can imagine his enthusiasm.
Hardly any festival gives happiness as much as this festival gives us all. But as you know that every year lakhs of women observe the fast of Chhath Puja for the first time. They do not know very well how to perform Chhath Puja?
In such a situation, it is very important for all of us to know about the method of Chhath Puja and its worship. You all know that we get the fruit of any worship only when we do it with complete method.
So let us all know the complete information about Chhath Puja in detail.
Why is Chhath Puja celebrated?
The fast of Chhath Puja is very pleasant and gives desired results. This fast is done for the protection of children, protection of husband and security of home. Especially for the safety of the children, then this fast must be done. Even if you do not have any children, you must do this fast for getting children. By the grace of Chhath Maiya, you will definitely get the happiness of children. Apart from this, leprosy patients should definitely observe this fast. The leprosy patients must observe Chhath fast for the prevention of their disease. The fast of Chhath Puja cures many diseases.
Can unmarried girls do Chhath fast or not?
Unmarried girls do not perform Chhath Puja. Only married women should observe this fast. Yes, if a girl has a special vow, she can do it. But for this the advice of elders must be taken.
How to leave Chhath fast rule of leaving chhath fast?
()1)You all know how difficult it is to observe Chhath fast. It is not easy for everyone to do this festival. In such a situation, if a person is physically unwell or is unable to perform Chhath Puja, then such people can give Chhath fast to their daughter-in-law.
(2)Now you must be curious to know how Chhath Vrat is broken? Let us tell you in detail. If you have a daughter-in-law, then the mother-in-law has to observe Chhath fast with her daughter-in-law.

(3)Then in as many soups as you offer Arghya, give as much soup to whomever you want to give, that is, to your daughter-in-law. Some people also call Pandit ji and get them to get Chhath fast for others. You can also do this if you want.

(4)If there is no daughter-in-law in your house to take Chhath, then you should call Panditji and offer prayers and pour a soup of the Arghya that you offer to God after worshiping. In this way also you can leave Chhath fast.

This was the rule to leave Chhath fast. If you are ever unable to observe Chhath Vrat, then you can leave Chhath Vrat according to this rule.
How to do chhath puja?
(1)At the time of Chhath Puja, you must clean your entire house thoroughly. Especially the place where you will prepare the food for Chhath Puja must be cleaned thoroughly.
(2)One thing should be especially noted that even after forgetting on the stove on which you are preparing non-vegetarian food, no prasad should be made for Chhath fast. If possible, you should try a new stove for Chhath fasting.
(3)People who perform Chhath Puja stop eating garlic and onions from the day of Diwali itself. Many people do not consume garlic onion in the entire Kartik month. If you want, you can do this or at least after Deepawali, garlic onion should not be eaten.
Then on the day of taking bath, you should wash your hair thoroughly and take a bath. On this day you should take a bath in a river or a pond. If you do not have any river or pond, then take a bath by mixing Gangajal in the water. After bathing, one should eat food only after worshiping. Let us know what you should not eat on the day of bathing.
What should and should not be eaten on the day of bathing?
(1)Those who observe Chhath Vrat must be well aware of the importance of bathing in this fast. Therefore, what you should eat and what you should not eat, let us know in full detail.
(2)One should not use garlic, onion and lentils in your food even on the day of taking bath during Chhath fast. Lentils are not considered pure for worship. Apart from this, you should not consume brinjal, radish and pumpkin at all. Mustard oil should also not be used on the day of bathing for those who observe Chhath fast.
(3)If you use pure ghee on the day of bathing, then it is very good but some people cannot buy ghee, then you should cook in refined oil or sunflower oil on this day. On this day you must make gram dal or tur dal.
(4)You must eat vegetable made of gourd on this day, because gourd vegetable is considered very auspicious on the day of bathing.
How to do Chhath Puja in Period?
(1)If it is the fifth day of your period, then you should observe Chhath fast, because the worship of the goddess starts from the fifth day of the period. If it is the third day of your period or now the first and second, then you should not offer Arghya, because the deities are worshiped only after the 7th day of the period.
(2)If you have to offer Arghya, then you can get it done by someone else. During your period, you can do all the work during Chhath fast, but keep some distance from worship. If it has been 5 days since the period, then you can also worship.
(3)But on the 5th day of the period or less, the Arghya of Sun God is not given.
According to the rules, it will be auspicious to offer Arghya after the 7th day of the period. But if 6 days have passed since your period and you want to offer Arghya, then you can also offer Arghya on the sixth day.
How to fast for Chhath Puja - Complete worship method
(1)If you are going to fast for Chhath Puja, then you must also know the rule of Chhath Puja. If you do not know very well how to fast for Chhath Puja, then let us tell you in full detail about the complete method of Chhath Puja.
(2)The most important thing for Chhath Puja is to collect its material. Let us know about the ingredients of Chhath Puja.
(3)Nahay – Eat Puja Ingredients: Rice, gram dal or tur dal, ghee, spices, bottle gourd, rock salt or salt and turmeric.
(4)Offerings of Nahay Khay: After taking a bath on this day, you have to make rice, lentils and gourd vegetable from the above mentioned puja ingredients. Then after offering food to Chhath Maiya, eat your own food and feed it to the family members.
(5)Chhath Puja material for the day of Kharna: Rice, flour, sweet and daily worship of Sathi.
(6)Prasad on the day of Kharna: On this day, the devotees should worship by wearing glass bangles or lathi, red or yellow colored clothes. After making kheer and roti of rice of sathi, you should again worship Chhath Maiya and take offerings of only kheer and roti after offering it.
Ingredients List of Chhath Puja
Bamboo basket or nugget, Bamboo or brass soup, Vermilion, Big cardamom, Thekua, Apple, Orange, Water fruit, Sweet potato, Banana, Water coconut, Pineapple, Guava, Sweet lemon, Sour lemon, Turmeric plant, Ginger plant , Arui, Suthni, Sugarcane, Sweet / Jaggery, Laddu, Lota, Milk, Honey, Ghee, Atta, Paan, Betel nut, Radish, Pumpkin, Sack, Matches, Incense sticks, New clothes etc.
Keep in mind that the bamboo stick in which you are keeping the complete items of Chhath Puja should be completely decorated and should be covered.