Mehndi Online Booking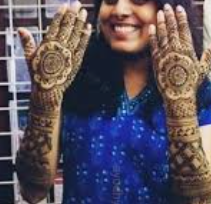 September 07, 2022 | matrimony-services
Mehndi online booking & Earning from the business of applying henna
Nowadays, be it marriage or any kind of women's function, women definitely get mehndi applied on their hands in every festival. Gradually this trend is increasing very much, due to which a lot of money is earned. You can charge people according to different mehndi designs.
Today most of the mehndi parlors charge 200 to 300 for a hand even for getting simple mehndi done, while at the time of weddings they also charge 500 to 1000 and this business earns more at the time of wedding and other women's festival. Due to which if you apply mehndi to 5 to 6 people every day, then you can earn 20 to 30 thousand easily for a month.
Keep the following things in mind in the business of applying mehndi
(1) The work of applying mehndi is not so easy. It is an art and only those who are expert in it can apply it well. When starting this business, treat your customers well.
(2) Very often you may have to go to the customer's house to apply mehndi to them. That is why without making any excuse, go to the customer's house so that the customer does not leave you.
(3) Give the option of maximum mehndi design to the customer.
You should talk about the charges for different designs of mehndi in advance so that there is no argument while paying later.
(4) When you go to someone's place to apply mehndi at the time of marriage, then the entire members of the bride have to apply mehndi there. In such a situation, do not charge the same for all of you. For example, people charge more for brides because the mehndi design applied to them is more dense, so charge according to the time and mehndi design.
(5) When you go to someone's house to apply mehndi in any function, then you can also take some money in advance from them. Always give good discounts to attract new customers.
(6) When you go to apply Mehndi to the bride in a wedding house, then reach before time. Because you have to apply mehndi to more women there. If you are late, they may bring in another designer and cancel you.
(7) Never apply Mehndi to the customer in a hurry.