Top Jyotish In Delhi | Vishwakarma Puja |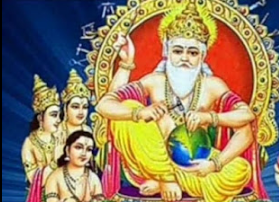 August 13, 2022 | astrology
Top Jyotish in Delhi Vishwakarma Puja, know the method of worship and religious importance: Vishwakarma Puja is on 17 September. According to the Hindu calendar, Vishwakarma Puja takes place every year on Kanya Sankranti.
As per Top Jyotish in Delhi according to religious belief, Lord Vishwakarma was born on this day.
Vishwakarma Dev is considered to be the world's first engineer.
Lord Vishwakarma is believed to be the architect of all the ancient capitals. Swarg Lok, Sone ki Lanka, Dwarka, and Hastinapur are also composed by Vishwakarma. Therefore, industries, factories, and machines are worshiped on the day of Vishwakarma Puja.
This puja is important for people who are artists, craftsmen, and traders. It is believed that worshiping Lord Vishwakarma leads to an increase in business. Worshiping Lord Vishwakarma is necessary and auspicious for those who desire wealth and prosperity.
Vishwakarma Puja Material and Method

:-

For the worship of Shri Vishwakarma Ji, arrange the necessary materials like Akshat, flowers, sandalwood, incense, incense sticks, curd, roli, betel nut, protection formula, sweets, fruits, etc. After this, the owner of factory, workshop, shop, etc. should take bath and sit on the seat of wife worship.

Place the urn with Ashtadal's rangoli on which there is Satanja. Then worship yourself or through your pandit Ji according to the law and order. Keep in mind that do not forget to do any kind of haste in worship.
Mantra for worship of Lord Vishwakarma

:-

In the worship of Lord Vishwakarma, one should chant the mantras 'Om Aadhar Shaktape Namah and Om Kumayi Namah', 'Om Anantham Namah', 'Prithivyai Namah'. While chanting, keep a rosary of Rudraksha with you.
Mythology of Vishwakarma Puja :-

According to mythology, this entire universe was also created by the hands of Vishwakarma. Vishwakarma ji is said to be the rachita of water, sky, and earth as per the 10th chapter of Rigveda, 121st Sukta. Brahma Ji & Vishwakarma Ji were the creation of Adi Narayan as per Vishwakarma Purana.
All the mythological structures are said to have been built by Lord Vishwakarma. The birth of Lord Vishwakarma is believed to be due to the churning of the ocean between the gods and the demons.
The weapons and weapons of the mythological era are made by Lord Vishwakarma only. He had also built the Vajra. It was Lord Vishwakarma who built Lanka.
Lord Shiva thought of building a palace for Mother Parvati and gave the responsibility of this to Lord Vishwakarma, then Lord Vishwakarma made the palace of gold. Lord Shiva called Ravana to worship this palace. But Ravana was so enchanted seeing the palace that he asked for the palace itself as Dakshina after worship.
Before going to Mount Kailash Ravana was handed over the palace by Lord Shiva. Apart from this, Lord Vishwakarma also built the city of Indraprastha for the Pandavas. Vishwakarma also built Hastinapur of Kaurava dynasty and Dwarka of Lord Krishna.